2021 Ford Bronco

Just like its namesake, the Ford Bronco has long been associated with the ideals of untamed freedom and the boldness to travel to exciting destinations. Now the 2021 Ford Bronco is galloping into the automotive market, and the expert team at Tom Masano Ford encourages you to reserve your own! Slated to be fully available sometime in 2021, the revamped Ford Bronco is ready to rock with its 2-Door and 4-Door configurations. The 2021 Ford Bronco 4-Door will give you plenty of unrestrained thrills as you hit those Pennsylvania hills, and the compact, yet supreme 2021 Ford Bronco Sport is ready to plow through whatever obstacles await ahead. Other configurations include the 2021 Ford Bronco Base, the 2021 Ford Bronco Big Bend, and the 2021 Ford Bronco Black Diamond™. You can also select the 2021 Ford Bronco Outer Banks™, the 2021 Ford Bronco Badlands™, or the 2021 Ford Bronco Wildtrak™. Reservations for the exotic 2021 Ford Bronco First Edition are already full. There are many unbelievable 2021 Ford Bronco specs and we can hardly wait to discuss them with you, so keep in contact with us for more news!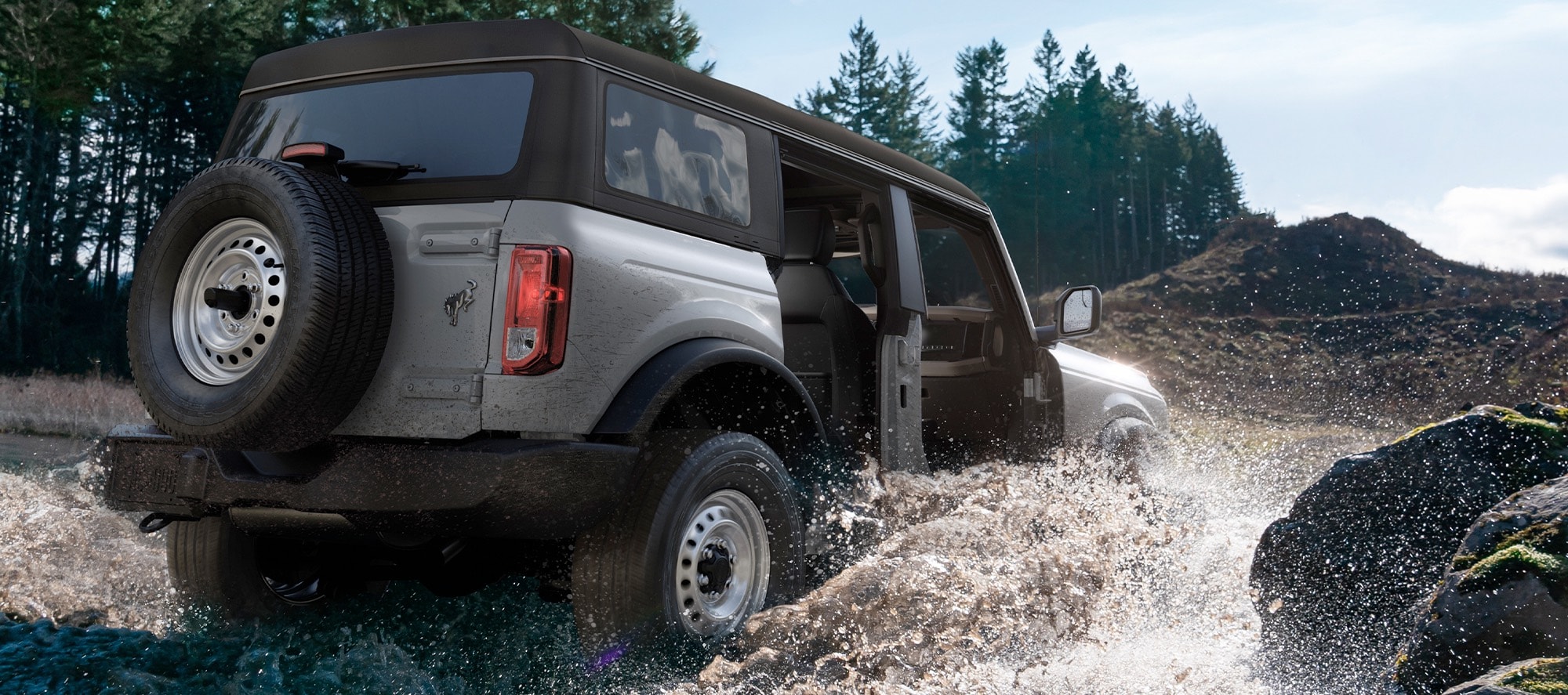 The HOSS Is Here
The 2021 Ford Bronco has officially left the stables and it is poised to cut loose. That is why you will be astonished at 2021 Ford Bronco specs , such as best-in-class ratings for dominating the most rugged wilderness. The standard four-wheel-drive function is found in all 2021 Ford Bronco configurations, something entirely unique to the Blue Oval brand. Jaw-dropping components such as the HOSS (High-Performance Off-Road Stability Suspension) system that enhances how your 2021 Ford Bronco handles in deep streams or charges over craggy terrain. The G.O.A.T. (Goes Over Any type of Terrain) modes are equally helpful. The 2021 Ford Bronco 4-Door and 2-Door trim levels offer 2.3L 4-cylinder turbocharged EcoBoost® engines that pump out an outstanding best-in-class 310 lb.-ft. of torque and a reliable 270 horsepower. Reach out to the crew at Tom Masano Ford for more information about the 2021 Ford Bronco price and other factors.

* Ride The Wind *
Don't worry, the 2021 Ford Bronco interior is just as awesome as the exterior. You can opt for various easy-to-remove roof options or frameless doors that you can put aside for an unfiltered experience of Mother Nature. Cutting-edge technology lets you tailor just how it feels to be in the cabin of a 2021 Ford Bronco 4-Door or any other Bronco model, along with providing assistance throughout your sojourn. We suggest outfitting your touchscreen with the available Trail Toolbox system for boosted off-road handling. Want to learn about more amazing 2021 Ford Bronco specs or maybe a little bit more about the 2021 Ford Bronco price? Contact Tom Masano Ford and don't hesitate to reserve the legendary 2021 Ford Bronco today!
Questions? Ask Us About the 2021 Ford Bronco!