2022 Trucks for Sale - Ford Maverick & Lightning vs. the Competition: The Ford Ranger
With fuel prices rising, hybrid and all-electric vehicles for sale will do the trick. How about all-electric trucks for sale too! At Tom Masano Ford in Reading, PA, we welcome drivers to a world full of automotive innovation and modernized design. We are always staying ahead of transportation trends.
Grab the most advanced technology, a roomy interior, a customizable truck bed and a standard hybrid pick-up truck or choose a brand new 'frunk' with the all-electric 2022 Ford Lightning.
A 'frunk' also known as a front trunk, allows drivers and passengers to store more as you rev up your engine to the core while you roar your powerful truck on the city streets or backcountry roads!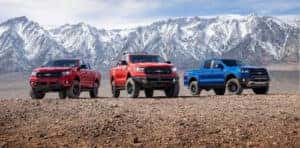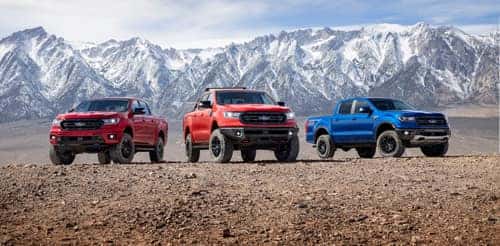 At Tom Masano Ford in Reading, our trucks for sale offer versatile transportation methods that enable drivers all types of options for productive and recreational lifestyles.
From carrying loads of work gear to recreational items, there are plenty of reasons why car buyers should choose a hybrid or an all-electric truck for sale at Tom Masano Ford in Reading, PA.
Whether you choose the 2022 Ford Maverick, the Ford Ranger or the all-electric F-150 Ford Lightning, make sure that you think about your main intentions before making a solid decision.
The 2022 Ford Maverick versus the Ford Ranger
There's a wide range of differences between these two. Let's get into the nitty gritty details of the Ford Maverick truck for sale versus its competitor: the 2022 Ford Ranger.
The 2022 Ford Maverick price range is entirely affordable with a starting MSRP of $19,995 and can tow up to 2,000-4,000 lbs.!

The Maverick is slightly smaller than the Ford Ranger:

The Ford Maverick offers advanced standard hybrid pick-up truck capabilities.
At Tom Masano Ford, we're here to give drivers and car buyers car facts.
What it comes down to with these two trucks, is asking yourself questions that relate to what you plan on using your new truck for? Once you can answer these types of questions, you can now move forward in your car buying experience.
If you're looking for towing capacity, the obvious answer is to get seated in the Ford Ranger as it tows a massive 7,500 lbs. versus the 2,000-4,000 lb. tow the Maverick offers. Although, a Ranger hybrid or electric version is yet to be revealed.

Plan on towing less gear? Instead, want a hybrid option and a compact pick-up truck with an affordable and economical price tag? The Ford Maverick may be in your favor.


2022 Trucks for Sale Near Me Reading, PA
Click to learn more.
With all-electric vehicles becoming an embedded trend, drivers now have more choices when it comes to competition. Continuously learn about the latest truck for sale models at Tom Masano Ford in Reading.
Ford F-150 Lightning Electric Truck for Sale:
With a front trunk, drivers who get work done will never run out of space with the 2022 Ford Lightnings new frunk trunk.
Perhaps part of your recreational activities includes game time tailgating? If this is true, frunks are often used as extra storage space when it comes to tailgating or camping.
Make use of every fine detail and stay practical with the all-new 2022 Ford Lightning pick-up truck for sale at Tom Masano Ford in Reading, PA.