Ford Edge: Practical and High-Quality Crossover

The Ford Edge stands out as the finest in its line of Crossover SUVs.
Fitted with futuristic performance features, the Edge will strike you as a stunning performer, both on road and off-road. This family-friendly luxury SUV comes standard with powerful 2.0L turbocharged direct-injection twin-scroll EcoBoost engine. To even make it better, it is offered with an option of 2.7-liter V6 EcoBoost engine on the ST trim level.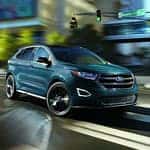 The Edge is ergonomically designed to offer the drivers and passengers a smooth drive, thanks to the combination of the eight-speed automatic transmission with the Ford's performance tuned suspension. This feature has made driving in the city and the freeway more enjoyable.
This performance inspired SUV takes it a notch higher by incorporating an active warm-up system on the transmission. The steering wheel-mounted paddles, which use race-inspired technology, create an engaged driving experience by allowing you to simply and swiftly change gears on the go.