John Masano Test Drives The Ford F-750 at The New Tom Masano Commercial Truck Center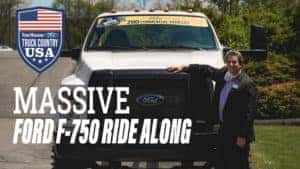 In this video, our very own John Masano of Tom Masano Ford Commercial Vehicle Center walks the walk and talks the talk. He'll take you on a one of a kind ride, in a super heavy-duty truck. It's a swaggering, shiny-new white Ford F-750 in the fullness of its gargantuan glory. As a matter of fact, it's the largest truck in our fleet. His reason for the spin? To sell the truck, you gotta ride it first! Check it out right here!
Prefer to read? No problem. We'll give you the rundown below.
Gentle Giant Of A Ford F-750 From The Fleet
The interior of the Ford F-750 actually looks a heck-of-a-lot like the classic look of other Ford models, which is a real perk in our opinion. No need for a "How to Drive a Ford F-750 for Dummies" sort of guide. Just start the engine and off you go! After a visit to Tom Masano Ford, Reading, PA, of course. Despite its size, it's super easy and smooth to drive, like a gentle giant — but wake the sleeping giant by stepping on the gas and you'll hear it roar.
The Ford F-750 comes with a work-ready frame that we can help you upfit according to your business needs. Because of this feature, you'll find its fuel tank, battery boxes, and diesel exhaust fluid reservoirs under the cab. This commercial truck is built not only to get the job done, but also to get it done efficiently. If your next question is, "How much is a Ford F-750?" we've got you covered. We have a team of sales professionals ready to answer any and all of your questions. They'll also fill you in on financing options.
The Tom Masano Commercial Truck Service Center
Next up in the video, John Masano heads to the heavy-duty commercial truck service center. By the way, if you've wondered where you'd service such a beast, we've got the answer for you — us! Not only do we have a vast array of commercial trucks, we service them too. We're a one stop shop, to make things as stress free for you as possible.
John takes you on a tour of the service center, where you see a variety of vehicles being serviced. There are huge heavy-duty commercial vehicles, some loaded to the gills with equipment. Here at Tom Masano, we have an efficient team of factory-trained experts who are more than capable of handling the job.
The New Tom Masano Ford Commercial Truck Center
We hope you enjoyed a virtual ride aboard the new Ford F-750 and a quick tour of our new shop. If a virtual ride didn't cut it, make sure you swing by for the real thing!
We have an awesome selection of commercial trucks and vans. If that's what you're looking for, chances are, we have exactly what your business needs.
We hope to see you soon! Our new Ford Commercial Trucking Center is at 1600 Lancaster Ave, Reading, PA.
We're open Mondays to Fridays between 8:30 am and 8:00 pm and Saturdays between 8:30 am and 6:00 pm. You can also give us a ring at the following numbers: