Design Features of the Ford Mustang

As a classic sports car, the Ford Mustang became popular and remains a top model all because of its design features.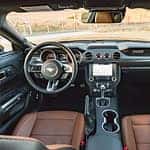 With every Mustang possessing features that are modern and innovative, this Ford model creates a look that is both athletic and futuristic. Carrying on the tradition, the newest Ford Mustang maintains a similar body style of years prior but throw in a few fresh accents.
At first glance, the vivid colors of Ford Mustang models melt around the body of this model to create a sleek and seamless appearance. With unique names like Antimatter Blue and Grabber Yellow, the colors of the Mustang are just as eccentric as its appearance.
In addition, the body layout of the Ford Mustang is another nostalgic and easily-recognizable design feature. Primarily purchased as a two-door sedan, buyers can still find the Mustang in a convertible configuration, as well. Either way, the body of the Ford Mustang places curves and sharp lines where they make the biggest impact.