Elite Performance Features of the Ford F-150 Raptor

For years, the Ford F-150 Raptor has been one of the top performance trucks that you can get from any automaker.
So what are some of the top performance features of the F-150 Raptor? Let's take a look at two of the top pieces of performance equipment that you'll find on the current generation Raptor.
Powerful V-8 Gas Engine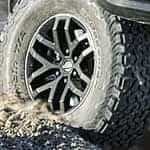 The Raptor gives you a standard 3.5-liter High Output V-6 engine. This engine is able to produce up to 450 horsepower. This gives the Raptor some amazing on-road performance that is on par with lots of performance sedans and coupes.
Top Off-Road Performance
?The Raptor can also get a lot done on any terrain thanks to the available Trail Control system. With Trail Control, the system will be able to apply brakes and acceleration to each individual wheel. The result is that you will have some of the best off-road control of any truck available.