Enjoy High-Performance Adventure in the Ford Ranger

Have you ever wanted to customize a vehicle to match your specific adventure style? With the Ford Ranger, you can.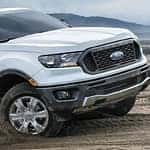 At Tom Masano Ford Lincoln, we're excited to announce that the new Ranger is available with special performance packages, each designed for a different type of driver in Reading.
The Ranger is available with your choice of three different Ford Performance Parts packages. If you're a light-duty off-roader, check out the Level 1 option. It comes with special wheels and performance graphics, plus a suspension leveling kit that's built for off-roading. Level 2 adds in all-terrain tires for enhanced performance, blue tow hooks to help you out of a tough spot, and convenient fog lights.
If you want to take the Ranger far off the beaten path, the Level 3 package might be the right fit. It comes with all of the Level 1 and Level 2 features; you'll also get a performance bumper, rear chase rack, and bold red tow hooks. The sport exhaust system delivers an aggressive roar.