Ford's Audio Engineering Team Has Achieved Excellence with the Ford Mustang Active Performance Exhaust

When it comes to how your new high-performing vehicle sounds, would you like greater control?
Fortunately, that control can be yours if you purchase the new Ford Mustang model. This is due to its surprisingly advanced audio engineering and a featured named the Active Valve Performance Exhaust.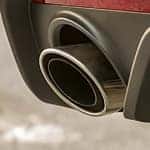 Early during the morning, Reading motorists would be wise to keep their Mustang's volume lower than usual. For this purpose, Quiet Start is an excellent option. During the livelier hours of the day, however, many Mustang owners would prefer the exact oppose. The Sport setting, thankfully, is designed to create a louder and more exciting driving experience.
Although those modes are quite popular, Tom Masano Ford Lincoln would like those considering the new Ford Mustang to also look into the potential uses of the Active Valve Performance Exhaust, such as Normal Mode and the Track setting. Both are just as useful as Sport and Quiet Start.